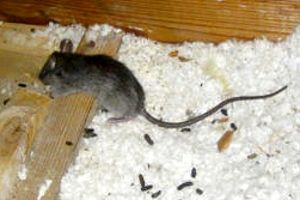 Old Insulation Removal
There are any number of reasons you might want or need to remove old insulation from your attic or other spaces in your home or business.
Whatever the reason, Abbotts has state-of-the-art equipment and expertise to remove hazardous old insulation safely and effectively.

Hazards
Many insulation materials contain asbestos, which is known to increase serious cancer risks with even limited exposure. In addition, federal and state authorities strictly regulate how asbestos-containing materials are handled in order to protect building occupants and workers.
Abbotts insulation removal specialists know the rules and know how to protect your family, employees and customers from exposure to asbestos and other potentially hazardous materials when removing old insulation.
Why Remove Old Insulation?
Aging insulation can lose its insulating, fire-resistant and moisture-resistant properties as it decays and breaks down. Older, organic insulations, such as encapsulated cellulose, eventually lose their anti-pest effectiveness, too. And even modern insulating materials can trap moisture after freezing weather or if moisture barriers are improperly installed, leading to mold.
Consider removing and replacing insulation if you see signs of:
Rodent nesting

Insulation break down, rot or decay

Mold or other fungal growth

Improperly installed moisture or vapor barriers
Abbotts Removes Old Insulation
Call Abbotts to safely remove and dispose of potentially hazardous old insulation. We'll handle the tough job quickly, safely and effectively, safeguarding your family, home or business.
---
More info:
Got Asbestos? Here's What to Expect
EPA list of asbestos laws and regulations
EPA report: vermiculite insulation
Get Help Now
Get a fast, 24 hr. emergency response. Click the button and get started immediately.
60 minute response time | Insurance approved | Report a claim
Get Help Now