Why Consider Using Abbotts for Water Damage Restoration
Trusted Local Business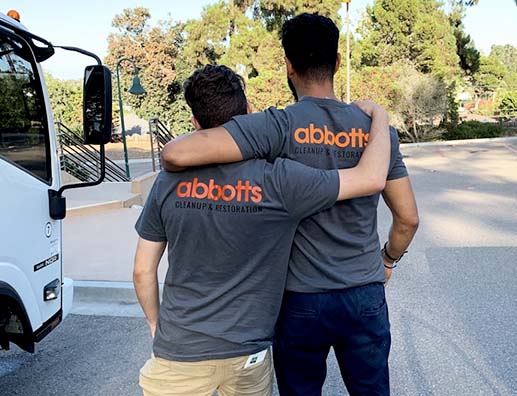 Trusted Local Business
When a disaster like a flood, fire, or other dangerous, damaging event occurs in your San Diego home or business, we know trying to get back on your feet can be extremely challenging. Not only do you have to provide safety for your family, employees, or customers (often all of these) you also have to ensure your livelihood is secure by tallying up the loss – both financial and personal.
For over 30 years, Abbotts has been helping San Diego families and businesses get back on their feet after a disaster. We can be a friend when you need it the most.

24/7 Emergency Restoration Service

60-Min Guaranteed Response Time

Certified, licensed, bonded & insured
The Best in San Diego Water Damage Restoration
IICRC Certified
The Institute of Inspection, Cleaning, and Restoration Certification, more commonly known as the IICRC, is a certification and standard-setting non-profit organization for the inspection, cleaning, and restoration industries.
Timely
24/7 Immediate Response.
No hidden fees
We use the industry gold standard pricing system, Xactimate®.
Capability
We command a formidable team of experienced, dedicated water damage restoration experts.
Quality
Unparalleled quality standards.
Free
Assessment.
Trust
Insured.
Commercial or Residential
We can handle any restoration job, from a home to a factory.
Professionalism
We never coast. Abbotts experts are the best trained in the business.
Experience
Three generations of disaster restoration experience.
Tested
We have a successful track record working with all insurance companies to make the claims process hassle-free.
Can Bill Insurance Directly
We have experience working with most major insurers and maintain valuable working relationships with them. We know the ropes and can bill your insurance company directly, so you can focus on restoring your property.
Years of Water Restoration Experience
Abbotts Fire And Flood of San Diego is a trusted leader in the restoration industry. With over 30 years of experience in water damage restoration and emergency damage restoration issues, Abbotts' restoration services include:
Ways to Stay Safe After a Flood
Flooding is particularly dangerous, and water is extremely damaging to a San Diego property in most cases. Here are some tips to help protect your property right away and keep you and others safe.
During a Flood
Don't try to walk across flowing streams of water or drive through flooded roadways.
If water rises in your home and you can't get out, go to the top floor, attic, or roof. If your attic has no outside access, get out!
Turn off all utilities at the main power switch and close the main gas valve if flooding is likely.
Keep power off until an electrician has inspected your system for safety.
Treat floodwater as if it is contaminated with chemical and biological hazards, because it often is.
Remember that flooding can increase the risk from wild animals such as snakes, venomous insects, and injured, potentially dangerous mammals.
After Flood Damage
Check for structural damage before re-entering your home or business.
If your home has suffered damage, call your insurance agent to file a claim. Abbotts can file your cleanup and restoration claim for you.
Take photos of any floodwater in your home or business and save any damaged personal property.
Make a list of damaged or lost items, including their purchase date and value with receipts, and place with the inventory you took prior to the flood. Some damaged items may require disposal, so keep photographs of these items.
Prevent mold by removing wet content immediately.
Wear gloves and boots to clean and disinfect. Wet items should be cleaned with a pine-oil cleanser and bleach, completely dried, and monitored for several days for any fungal growth and odors.
We're Local and Available 24/7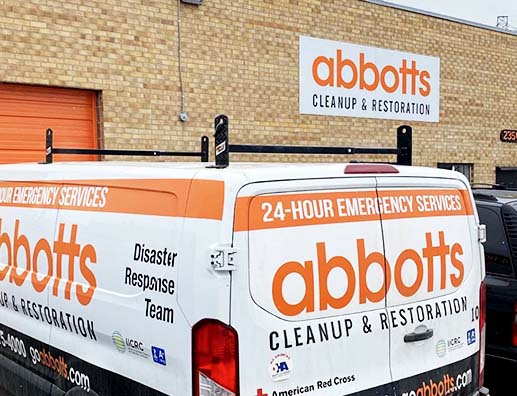 We're Local and Available 24/7