What to Do After a Fire Damages Your San Diego Home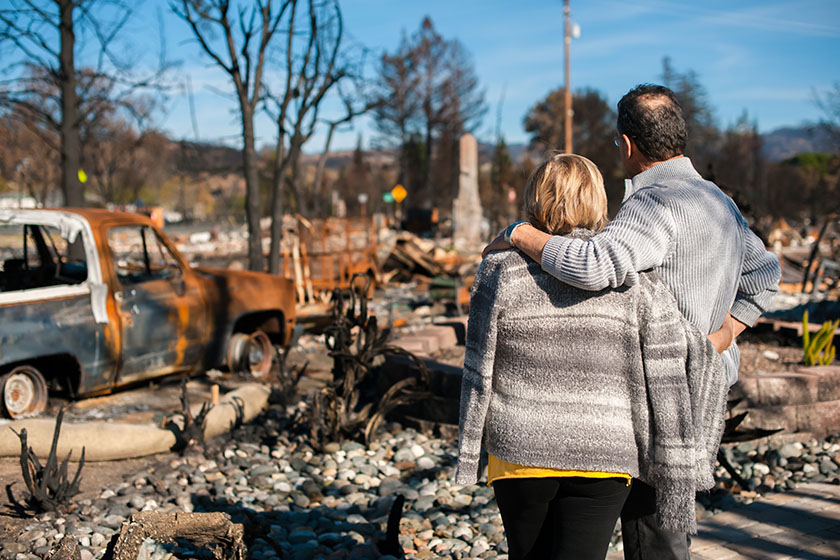 It's no secret that a house fire is an incredibly scary, overwhelming, and downright dangerous experience. And once the fire is finally out, it can be difficult to know where – and how – to begin the cleanup process. As a professional restoration company, we can help you get your home back to the way it was pre-fire..
Here are a few key things you can do after a fire damages your San Diego home.
What should you do immediately after a house fire?
After the fire is out and you're in a safe area, call your insurance company. You'll need to inform them of the incident, let them know the possible extent of the damage, and ask them what needs to be done immediately. More often than not, removing any standing water and securing the property are two of the most important things you can do right away.
Once you've called your insurance agency, find a safe place to stay away from the home. Unfortunately, no matter the size of the fire or the extent of the damage, you'll need to stay somewhere else for at least a few days – even if it was a small fire, your San Diego property will need to be thoroughly cleaned and all soot, smoke, and ash completely cleared before it's safe to reenter.
Leftover smoke and ash can be extremely dangerous to inhale, even long after the fire has been extinguished, and damaged parts of the house can also be dangerous to move around in until everything has been secured.

How do I secure my property after the fire?
Many insurance policies will want you to make sure your home is secure from further damage before you leave. This process typically includes boarding up the windows, doors, or other openings with plywood, and securing tarps over holes in the roof or walls to prevent further damage from the weather.
Your insurance company will be able to tell you exactly what you need to do before you leave. They might also suggest that you remove any nearby (and easy to access) personal belongings, such as an overnight bag or important documents.
Do I need professional clean-up even after a small house fire?
The best way to guarantee a complete home recovery is to seek the aid of a professional fire damage restoration company that will completely investigate the area. Some dangers aren't brought to the homeowner's attention until professionals have the chance to survey the area and render repairs.
Professional restoration services can effectively restore property with significant smoke damage and clean areas exposed to smoke. Even in the case where there aren't obvious signs of smoke damage, it's important to have the home inspected and properly cleaned.
What are the steps for fire damage cleanup?
First, we will perform a detailed assessment of the damage: an Abbotts Fire & Flood San Diego inspection officer will identify all areas of the home or business that have been affected. Once everything has been identified and the main areas of damage have been noted, we will put together a comprehensive remediation plan for those affected areas.
Getting your home or business back to the way it was depends on a host of factors, including size, number of rooms, features, and extent of the damage. As we work through the process, our team will always keep you updated on what's happening and what's required to get your San Diego home or business back to normal.
Has a portion of your residential or commercial property been exposed to any type of fire or smoke damage? Call Abbotts Fire & Flood San Diego at 619-391-9368 for fire and smoke restoration services throughout the San Diego area.
We are experts in assisting businesses and homeowners alike in the event of a fire, and we maintain a 24/7 emergency line to provide assistance in the worst-case scenario.