Abbotts Fire & Flood of San Diego is an IICRC Certified firm that provides expert 24/7 emergency water damage restoration services throughout San Diego County. The Abbotts team has over 30 years of experience in the areas of residential and commercial restoration of water damage, water extraction, water mitigation, sewage remediation and reconstruction. We are committed to returning your home or commercial property to a pre-loss condition
As a locally owned and operated water damage restoration company for over 30 years, Abbotts has encountered many different water damage scenarios, from exploding water heaters, burst water pipes, and drainage line cracks to major floods and water damage losses cause by water main breaks.
Water Damage Threatens San Diego in All Seasons
One in 45 households in San Diego experience water damage each year. In Southern California, many businesses and homes endure floods from occasional torrential rains, and then develop mold problems in crawlspaces within warm climates. In addition to sustaining water damage resulting directly from incursion of water, many flood-damaged structures have now become ideal mold environments. If your property is damaged or destroyed by water, the countdown begins to remediate the situation as quickly as possible. The sooner the area is dried, cleaned and managed to recover from water damage, the lower the risk of hazardous mold growth.
You can trust Abbott's Fire and Flood to respond quickly and take all necessary measures to protect your San Diego home or business.
We are IICRC Certified water damage repair technicians who are seasoned and dedicated to helping you deal with the aftermath of a disaster in San Diego. Whether you have a frozen pipe that has broken, flood damage or a natural disaster that has destroyed your home, you can rely on Abbotts to help you repair your property and return your life to normal. You can reach us day or night, 7 days a week for emergency water damage recovery services for water restoration, flood and fire damage, mold remediation and more in San Diego County. Read more about the services that we provide below.
Removing Water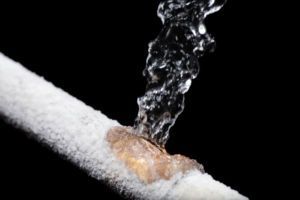 Abbott's will not only save you time and effort, but also will in most cases save you money. Dealing with water damage yourself is an expensive proposition.
The costs for tools and materials such as towels, sponges, boots, protective clothing, respirators, cleaning supplies, pumps and ventilation fans can quickly mount, costing you hundreds of dollars from the start. And the expense will grow along with hazardous mold if your efforts fail to completely repair the problem and thoroughly remove the water. Removing flood water from your water damaged property can be a daunting, dirty and dangerous task for you. Abbott's Fire and Flood Restoration can shoulder the water damage restoration and cleanup burden so you can focus on getting your life back to normal.
Other Water Damage Problems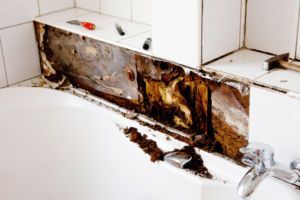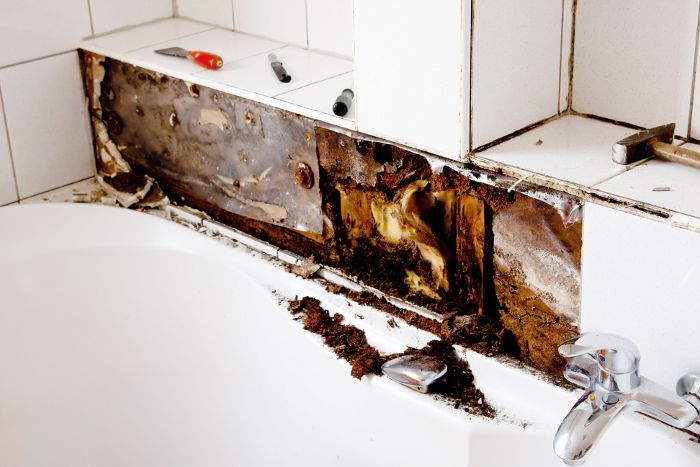 Along with causing hazardous mold, water damage can:
Weaken structures
Cause wood rot & swelling
Cause nails and fasteners to loosen
The sooner the structure is dried and ventilated, the less damage it is likely to sustain. Abbott's Fire and Flood Restoration has the expertise and equipment in San Diego to get your property dry quickly, reducing the risk of costly repairs commonly caused by water damage.
Abbott's certified professional water damage restoration specialists are experienced and dedicated to helping you deal with the aftermath of disaster in San Diego. Whether you have a frozen pipe that ruptured, flood damage or a natural disaster floods your property, you can count on Abbotts to help you get your property restored and your life back to normal. You can reach us any time, day or night, 7 days a week for emergency water damage restoration services for water removal, flood damage and fire damage, mold remediation and more in San Diego and anywhere in America.
Basement Flood Cleanup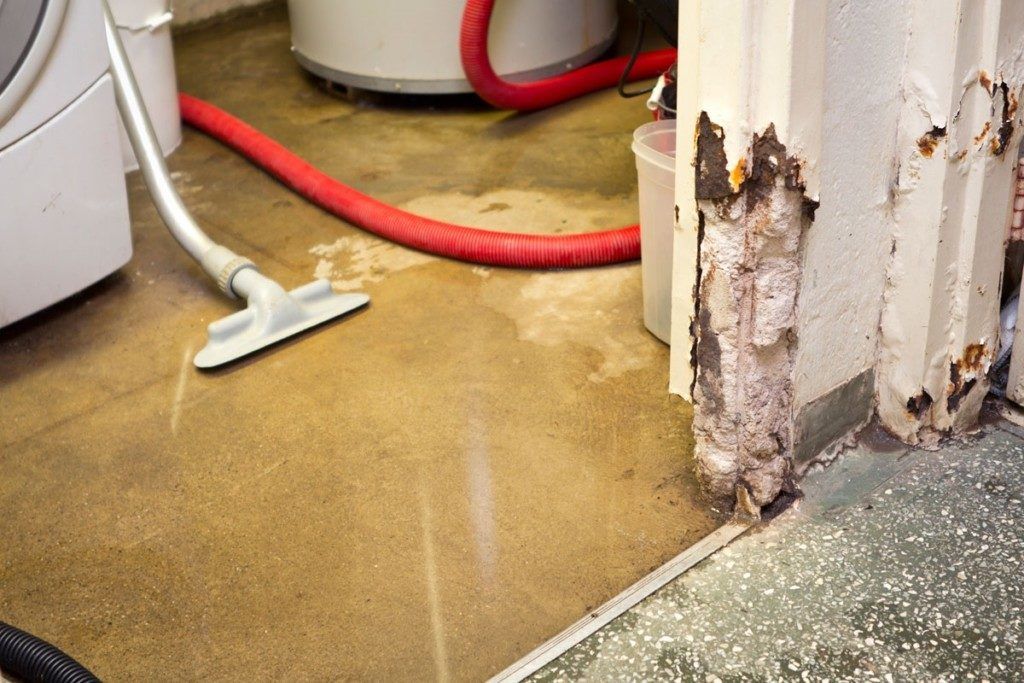 A common problem in San Diego is water damage caused by basement flooding. Main plumbing pipes, sump pumps, sewer drains, and washing machines are all cause for concern for potential water damage in the basement of most homes. After a storm, excess water from the rain can cause a basement for some too. If you find water or sewage in your basement, call the experts at Abbotts Fire and Flood San Diego for professional basement flood removal services.
When you have a flooded basement proper water extraction and structural dryout is dire to prevent forthcoming problems. We will remove all traces of water from your basement to prevent the growth of dangerous mold, mildew, and other bacteria, all of which can be severe concerning your family's health as well as causing damage to the structure of your home. Use the experience and extensive training Abbotts Fire and Flood San Diego has to make sure your home has been cleaned thoroughly and correctly the first time.
By hiring Abbotts Fire and Flood San Diego for your basement flood clean up, you will trust in knowing we are licensed, insured and professional.  We will work around the clock to return your home to the condition it was in before the water or sewage intrusion. Our equipment is the latest in water damage technology and we abide by the highest industry standards to ensure a successful restoration project.
Call us today a 619-223-1800 for San Diego basement flood clean up service.
What Water Damage Issue Are You Experiencing?
Appliance Water Leak & Flood Cleanup
Leaking devices are clearly an annoyance and can make a lot of mess, but they're not the only issues you need to think about. We've seen many occasions where an appliance leak had not been fixed for hours because the homeowner was at work, as well as minor leaks that went unnoticed until a major problem arose.
In such cases, there is a potential for mold growth, damage to drywall, carpet and flooring, cabinet damage, and even expensive structural damage. Our certified technicians will be able to correctly assess the extent of the damage and easily provide complete drying and remediation. Even minor leaks should be addressed immediately to prevent further damage.
Many homeowners don't realize when they don't have a fully functioning appliance until a major problem arises. Below are some of the common ways appliances leak water:
Water heater: Water heaters may have several leaks, including cracked or damaged pipes, loose fittings, or leaking tanks. Water heaters can also burst and instantly pour dozens of gallons of water into your home. Hot water is more dangerous than cold water, so it is important to act immediately if the water heater leaks.
Washing machine: Washing Machine hoses are pressurized and many homeowners abandon the water supply when it is not in use. This can lead to a burst of lines spraying large amounts throughout your home or business. Slower leakage from damaged hoses and loose fittings can also cause water damage and mold growth on the walls behind the unit.
Dishwasher: The leakage of the dishwasher will generally be caused by the drain line or the supply line. Drain line leaks can be either slow or abrupt, and very often contain category 3 water. Supply lines are under heavy water pressure, and these leaks lead to overflows that can damage the building.
Heating & Cooling Equipment: Air Conditioning units in the attic are prime candidates for leakage, which is why it is important for a professional to inspect all aspects of the system for leakage, damage and blockage. Such leaks are often caused by condenser lines being blocked, which will cause ceiling damage to rooms below.
Refrigerator: Refrigerators with built-in ice makers have a water supply tube. As in the case of dishwashers, this line can burst and cause a significant leak. Fridges can also experience slow leaks from the base, which will take longer to detect and can easily cause mold growth.
Coming home and finding out that you have a broken supply line to an appliance such as a ice maker leak or broken supply line to a faucet or dishwater or washing machine can be devastating. Washing machine overflows, backflow preventors and broken supply lines can allow up to 294 gallons of water in your home in a typical seven hour period while you're away at work.
Note: Do not use appliances, washing machines and dishwashers while away from home.
Restoration Services for Water Damage from Sprinkler System Leaks
Automated sprinkler systems are a great modern convenience, particularly for businesses and individuals in dry climates. An automatic sprinkler is often designed to save time and money while keeping the landscape new. Unfortunately, an undetected sprinkler leak or overlooked sprinkler system burst can cause expensive water damage to your home.
Prepping your lawn sprinkler system for the winter is essential to preventing costly water damage to your property. Sprinkler pipes and other parts of your sprinkler system are at risk of freezing and breaking when temperatures fall below 32 degrees Fahrenheit. Freezing temperatures will cause any excess water to transform to ice in your sprinkler system. Increasing the pressure from the ice causes the sprinkler system pipes and fittings to burst and the valves to break. Water damage from sprinkler systems can be severe, particularly if the house is flooded by sprinklers.
The cost of blowing out a sprinkler system is usually less than $100-and will save you thousands of water damage from the San Diego sprinkler flood. To overwinter the irrigation system, make sure to shut down the water supply before the first freeze and drain the water from the pipes. The sprinkler system blows out to ensure that all water is removed and prevents costly damage to the water.
Depending on the amount of water damage caused by the sprinkler systems, you may need professional equipment. Abbotts can be on-site in 60 minutes.
Burst Pipe Cleanup & Clean Water Dehumidification
The plumbing system is the undisguised hero of any given property. It consists of an intricate set of pipes and faucets which carry water and remove waste. But, when a pipe bursts, it can cause significant damage to your home or business. Stop irreversible damage to property by contacting Abbotts Fire & Flood Of San Diego. We are experts in the restoration of water damage, working efficiently and precisely to remove water and restore your property by providing structural drying. We understand how frustrating such a situation can be, which is why we pay attention to the details and ensure work is done right the first time.
Common Causes for Pipe Bursts & Broken Pipes Include:
Clogs: When there are clogs in the pipes, the water pressure will build up within, causing the pipe to move and to burst causing category 3 water leaving devastating consequences.
Improper Installation: If the pipes are not properly installed at the outset, future problems can occur, including pipe bursts.
Extreme Weather: When temperatures fall below freezing levels, the cold water left in the pipes will freeze and expand, causing the pipe to burst. The exposed pipes are particularly at risk of freezing and breaking down.
Earthquakes: Small earthquakes can also cause move in pipes which can lead to failure.
Tree Roots: The roots of the tree are naturally drawn to moisture. If the pipe is placed too close to the tree, the roots grow towards the pipes and eventually cause backups of the sewage drain lines into the crawlspaces of your home and business.
Allow our water damage technicians to help you with broken pipes. Our trained staff works effectively to minimize damage of lingering water before beginning our restoration services. We take the time to discuss your concerns and answer any questions you may have before developing personalized remediation solution to bring your home back to a pre-loss condition.
Water Damage From Clogged Gutters
Clogged gutters frequently result from debris such as leaves, twigs and roofing material which often prevents the passage of rainwater through the gutter and downpours. The purpose of the gutter system is to transfer water away from the roof and from the foundation. Obstructions may trigger rainwater to flow in undesired ways and/or linger too close to your house, potentially causing harm to foundations, crawlspaces and rooms below grade.
Avoid the sewage flooding the gutters if necessary. Trying to clean up clogged gutter water in the basement is nearly impossible when the rainwater is still flowing in. You may need to clean the clogged gutter or add downspouts that guide water away from your property or building. Long-term land grading may be necessary to direct the flow of rainwater from the building to prevent further water damage.
Quickly catch the water from the gutter to the house. So as soon so you see the water coming through the floor, you're going to want to clear the standing water. If you've caught the problem early and there's only a small amount of water, a towel or mop can be used to soak up standing water. Water extraction equipment-like a wet vac-and air movers (fans) are likely to be needed to ensure that all the moisture from the water intrusion in the base is eliminated. Dehumidifiers will speed up the drying process.
If you have more than one inch of clogged gutter water in San Diego County, you may need professional assistance and we are 24 hour 7 days a week to assist you. Abbotts can be on-site in 60 minutes.
Sump Pump Failure & Cleanup Services
If your sump pump doesn't function properly, it can wind up costing you. Even tiny amounts of water can cause significant damage. The sump pump is designed to pump water through the discharge pipe and away from the foundation of your home. When a sump pump fails, the result is often flooded floors, flooded crawlspaces, basements, mold and significant buckling of hardwood floors above a crawlspace. The water damage caused by sump pump failures can carry harmful pathogens and bacteria which can also lead to mold infestation of your crawlspace.
There are a lot of reasons for the malfunction of a sump pump. If your pump is running and draining some water then shuts off after a short time without pumping out all the water, there are a few possible causes: the pump may be overheating. The float transition needs to be adjusted. The float switch may be bad. Sump pumps should be inspected twice a year, also make sure that the GFI plug supplying power is operational.
Remove standing water immediately
The standing water arising from the sump pump, which is not operating, must be removed immediately. Abbotts Fire & Flood Of San Diego removes standing water. Water extraction equipment and air movers (like fans) may also be necessary to ensure that all the moisture and humidity from the sump pump failure is removed. Act fast – time is essential to prevent additional damage from water and mold.
When are you supposed to call us?
Call us immediately at 619-223-1800 if you suspect that you are facing sump pump failure. Water damage recovery costs resulting from the overflow of the sump pumps can actually add up. Damage from the failure of the sump pump can impact crawlspaces, parking garages, hardwood floor and sub-floors. Humidity and moisture levels from standing water due to a sump pump not being maintained both provide ideal conditions for water damage and mold growth.  We provide prompt remediation of water damage 24 hours a day, 7 days a week.
Water Damage Resulting From A Toilet Overflow, Backup,
Soft Clogs or Supply Line Failures
One of the top five factors that cause water damage to a home is a toilet overflow. Whether it's a clog in the bowl or a leak in the tank, the damage can be enormous This is especially true when the bathroom is located on the upper floor and the water drips down to the lower levels of the home. At that moment, you have a class III water loss, which means that water damage has happened from top to bottom, impacting walls, likely insulation, wall cavities, flooring systems, etc. In essence, you have a big mess on your hands that will need the aid of Abbott's emergency water damage restoration team.
Assessing the damage of the toilet overflow as with any loss of water is the first thing we will do when we arrive at your property is to determine the full extent of the damage. This isn't as straightforward as you might think, because most of the exposure isn't visible to the human eye (or even the sense of dampness). These are just some of the issues that are likely to happen in a flood emergency as mentioned above. Abbotts Fire & Flood has all the necessary equipment, infrared cameras, penetrating and non penetrating moisture meters to pinpoint the source and locate all the damages created by water. We professional extract standing water, spray and disinfectant using anti-microbial Quant destroying pathogens and bacteria. We will then install the necessary equipment including air movers, dehumidification and applying the S500 IICRC standard.
Water flows down the outer wall, soaking up the insulation
Water runs up the bathroom wall, washing out the drywall (and potentially affecting the electrical wiring inside the wall cavity)
Water gets caught under your bathroom cabinets
Water drips through the underfloor and soaks up the wall.
What happens if the water contains sewage?
If you're reading our blog regularly, you know we're striving not to be alarmists. We don't want to intimidate you, but we want to teach you. And sometimes, the more you know, the more terrifying the situation is. That's a good thing, because at least you're not going to be lulled into a false sense of safety. And when it comes to water cleaning services from a toilet overflow, the levels are going up significantly.  If you have returned to a flooded house and the water includes raw sewage, shut down the supply line and leave the property and contact us immediately.
At Abbotts Fire & Flood in San Diego, we specialize in handling all sorts of emergency water losses throughout San Diego County, and as we said above, water damage from overflowing toilets is one of the most common losses we see. Which means no matter what happens, we've got the experience to repair it right away.
Attic Water Damage Restoration Services
There are several causes of water damage in attic areas. Attic water damage can result from roof leaks, leakage of HVAC systems, poorly installed equipment, poorly ventilated toilets, and moisture trapped in the attic.
Since attics are often cut off from regular traffic, exposure to attic water damage often goes unnoticed damage and undesirable odors may present. By this time, you're usually looking at the eradication of attic mold.
In order to prevent latent exposure to water for attic rooms, the attic should be checked at least once a year. Attic checks are advised for autumn so that attic leak repairs can be done due to the start to cold winter weather or the rainy season.
Water is the sneakiest enemy for most property owners. It's stubborn and determined -often absorbing your home without warning. Water damage in your attic can be even more difficult to fix as damage can result either from leakage or aggregation of moisture and condensation.
Once you discover water damage to your attic, call Abbotts immediately at 619-223-1800. Professional water extraction may be necessary to ensure that all moisture is extracted. Air Movers and dehumidifiers will speed up the drying process.  Time is important to prevent additional exposure to water.
When you suspect you may have water damage in the attic, arrange for a free evaluation from one of our water damage technicians right away. Our water damage restoration experts in San Diego will identify the source of the water damage. Our insurance claims specialists will also help you understand your insurance coverage and, where possible, coordinate your insurance claims.
Choosing a San Diego Water Damage Remediation Service requires swift action. Depending on the extent of the damage to in the attic area, you need professional expertise and equipment. Hazards of attic water damage left untreated can result in mold, removal of ruined insulation, replacement of damaged drywall, replacement of damaged ceilings, replacement of carpets, repaired and painted walls, water damage to furniture and appliances and remediation of attic molds.  We provide urgent water damage repair services 24 hours a day, 7 days a week.
HVAC Water Damage Restoration Services
In a relatively short period of time, water may ruin your house. Clean water takes better 24 and 48 hours to start producing mold.
Leaking AC units can be risky, particularly if exposed. Often, exposure to water that is not properly cleaned will easily become a dangerous mold state. The faster the HVAC leak is repaired and remediation begins, the lower the chance of dangerous mold growth.
First, stop the active HVAC leak by turning the air conditioner off.
Quickly check leak sources from the AC unit. HVAC leaks often stem from clogged condensation lines or cracked or broken pans.
In the end, extract standing water. Dehumidifiers and air movers (fans) may be necessary to ensure that all the moisture from the HVAC leakage is eliminated. Dehumidifiers speed up the drying process. Act fast! Space is necessary to avoid and prevent additional exposure to water.
Water from HVAC systems leaking in the attic can damage everything: ceilings, walls, baseboards and carpets.
You would often need to make a call to the HVAC repair company. Licensed HVAC technician are trained to work with electrical connections, refrigerants and replacement parts.
Depending on the amount of water damage done by the HVAC leaks, you may need professional equipment. Abbotts can be on-site in 60 minutes.
How do you work to restore HVAC water leakage?
Detailed analysis of water damage caused by AC leakage
High-tech infrared cameras and humidity meters shall determine the extent of water damage caused by HVAC leakage
Water separation, drying devices and dehumidification equipment shall be put in place
Further cleaning of water damage including decontamination, antimicrobials and sanitizers Until water damage has been mitigated, detailed assessments shall be made. Damaged floors, drywalls and baseboards may need to be restored.
HVAC leaks appear to go unnoticed until the water damage has happened. Uncontrolled damage to HVAC water can result in structural damage. You could also find yourself facing severe drywall damage, as well as poorly soaked carpets, hardwood floors or subfloors. The mold growth that grows inside the attic, insulation and walls.
In high humidity conditions, the mold begins to grow in less than 24 hours. Water extraction and moisture reduction are key to stopping the growth of hazardous molds.  We provide prompt HVAC water damage repair services 24 hours a day, 7 days a week.
Hardwood Floor Water Damage Restoration Services
If your hardwood floors have been affected by water or rain, call Abbotts quickly to save money and reduce your damages and the inconvenience of replacement.
If your hardwood floors are covered in water, time cannot be wasted. The quicker you contact us, the more money you're going to save. Don't wait overnight. The longer the water soaks in your hardwood floors, the harder it is to get out. The chances of a successful recovery decrease much faster if you act fast and call Abbotts Fire & Flood Of San Diego. No one can guarantee that your floors will be returned to a pre-loss state, but give yourself the best chance.
Some companies claim to be hardwood restoration specialists, but they just don't compare to Abbotts. Hardwood floors are extremely difficult to dry sufficiently to avoid warping and other damages. You can't just put the air mover on the hardwood floors. If it is not properly dried, you may have a mold problem, or your floors will have other damages (crowning and cupping) that require replacement.
It's very hard to match the quality of hardwood, so chances are any replacement flooring will devalue your floor and home. A better option is to dry hardwood properly and thoroughly using state-of – the-art equipment and techniques, avoiding costly, time-consuming repairs that disrupt your life or business.
No Sanding, Refining or Replacement Needed, we dry hardwood floors in place all the time without having to launch a large construction project, saving our clients funds and aggravation. No sanding, no partial removal, no staining, no detachment of baseboards, cabinets or molding.
We have the knowledge and experience as well as the equipment to properly dry any hardwood floor, including:
Tenting of hardwood floors. (Tenting allows us to keep the heat dehumidification specifically to the area of the damaged floors)
We monitor the moisture throughout the drying process and test the affected areas (hardwoods could be between 8 and 12% moisture content)
Abbott's Fire Of Flood San Diego uses the Injectidry system to quickly remove water from affected floors
Rescue mat system that extracts moisture from hardwood. Water is under the floor, not just above the floor. Our rescue mats remove all the water from the hardwood, preventing the mold from growing in the subfloor, which often contains parchment paper (food for mold).
The TES system injects hot, dry air into the tent above the affected floor.
Dehumidifiers scrub moisture from the air, helping to dry more quickly.
Antique Hardwood Floors to Gymnasiums,  whether you have damaged hardwood floors in your home or business, Abbotts is your best bet on drying and restoring them. We can even dry and repair gym floors that are incredibly expensive to replace.
We can do any hardwood drying and restoration job, big or small. We can even dry and restore the old hardwood floors. In addition, the safe drying and restoration of older hardwood floors is one of our specialties.
Abbotts is a 5- star accredited member of the Better Business Bureau and a highly accredited IICRC member. Our handpicked team can answer your phone when you call, show up to your home quickly, and restore your hardwood floors to their original glory. We work with all insurance companies and will advocate throughout the restoration process, ensuring that we answer all your questions and deliver the quality and value you deserve. Call Abbotts at any time, 24 hours a day, for an immediate response and a free consultation.
Hardwood Floor Drying & Repair Services
If your home gets flooded from leaking appliances, burst pipes, etc… it's extremely important to get your hardwood floors dried quickly.  The longer the water resides within the hardwood floors, the more harm the doors, baseboards, and walls will have.  Abbotts uses the latest drying equipment to dry your wood floor and remove moisture from your home or business. Wet floors tend to increase the amount of moisture in the air, which could potentially increase the risk of mold and mildew production.  The removal of moisture from your home or business after a flood or leakage should therefore be considered.
These Are Typical Examples Of Restorable Wood Floor Damage: Cupping or buckling happens when the wood floors have been affected by water and the water is theoretically below hardwood. Abbotts Fire & Flood will professional dry and restore your hardwood floors to the IICRC standard.
Cupping: When the hardwood floor base absorbs more moisture than the surface, it makes the cupping happen. Cupping is one-sided moisture that causes the edges of your wood floor to rise above the center. This makes the floor look curvy, and it doesn't look flat anymore.
Buckling: Buckling typically happens after a home flood or crawlspace flood, and is considered to be one of the major water damages on the wood floor. It occurs when the hardwood floor lifts a few inches above the subfloor. It can only be repaired if you take immediate action.
Wood Floor Drying and Water Damage Restoration Technician In San Diego
Hardwood floor damage can occur within 24 hours. It is crucial that you call a skilled wood floor dryer to prevent any harm to your floors. It's hard to dry wood floors, and if it dries incorrectly, it can lead to permanent water damage or mold growth.
When you call Abbotts, we'll send our team to your property right away. We assure you to respond quickly to your water damage emergency and start the process of water extraction, drying up your floors, and fixing water damage quickly.
If your wood floors are impacted by flooding or water damage, it is very important to extract standing water and dry the floors as soon as possible.  The drying process should be carried out properly so that the surfaces under the floorboards are dry.  Standing water on top of hardwood floors may cause water to fall below the surface, and water can cause the sub-floor to degrade, and the entire floor may be at risk. Call Abbotts at any time, 24 hours a day, for an immediate response and a free consultation.
Water Mitigation Services
According to FEMA, mitigation is a method to reduce the loss of property due to the affects of a disaster. Water mitigation refers to the process of disinfecting, decontamination, water cleanup, sanitizing, drying and restoring the pre-water condition of a property. Cleaning up the process of water damage is not standardized. Each property and water damage situation are different, involving an individual action plan to complete the mitigation process.
Evaluation of the water mitigation situation is the first step in the mitigation process. The cause of the water damage must be determined and, if required, repairs should be made to avoid the potential for any further damage. Water damage can be instant and serious, as in the case of natural disasters or collapse of the pipe, or it can take place gradually over a longer period of time. Leaky pipes, roofs, or other water entry points can create conditions that are ripe for mold formation and other damage.
The level of exposure to water must also be determined. Different water mitigation methods are needed for different types of disasters. Water damage categories are classified as white, gray or black, depending on the severity of the pollutants found in the water. Gray and black water may be dangerous to the health of any person or animal exposed to it. Identifying which form of water damage is crucial, so you may want to contact us to minimize the damages of water instruction.
Once the condition has been evaluated to remove standing water, the next step is to establish a course of action to remove water and moisture. Next, any standing water must be extracted from carpets and hardwood floors. Wood floor drying systems, subfloor drying systems and air movers are used in the water removal process to properly extract any and all standing water.
After the standing water has been removed, the remaining moisture must be removed from both the air and the structure itself. At Abbotts, we use desiccant dehumidification and industrial strength dryers and blowers to remove all remaining moisture and remove moisture-friendly environments.
Bring your property back to life
The final step in the mitigation process is to clean up and restore the structure. Often, when dealing with flood damage, water is the smallest concern. Sometimes, the structure of a property is most affected. Structural damage from toxic water needs to be properly sanitized and restored to ensure that the property returns to a safe and healthy condition.
Water damage restoration is an important process when it comes to restoring your home or business. We specialize in cleaning, drying, sanitizing and restoring properties damaged by hazardous flood waters. If you have water damage in your home, office or business, please contact Abbotts to discuss your situation.
Water Cleanup & Extraction Services
Experiencing flooding at home — in addition to turning the life of the homeowner around — brings additional problems such as fungal growth and deteriorating sub floor n which water has been deposited, for example in the subfloors of the house. Water damage can not only affect the stability and infrastructure of a house; if water remediation does not happen quickly, it can also pose a serious health risk for mold spores.
To help us understand what the water extraction process is, the following information provides a summary of basic procedures for remediating water damage in a typical situation of water damage.
Standing water removal
In situations of leakage, the water source has been stopped or repaired, our extraction specialists will start the process starts with instruments such as infrared cameras and moisture detectors which, in the first instance, find humidity within walls, ceilings and floors. Abbotts has all the tools and knowledge to not only detect the source, but also to find the areas by which have been affected.
In order to extract standing water and prevent further damage, including the proliferation of mildews and molds, professionals use two tools:
An industrial water extractor
A water claw
Our industrial truck mount unit is capable of extracting massive quantities of water within a short period of time and the water claw is designed to work quickly to remove water through carpets and pads in place.
Monitoring and Drying-Out Process
Our water extraction professionals use industrial air movers to remove moisture from the subsurface and other infrastructure. Speed dryers operate by air circulation. Industrial extra large dehumidifiers extract air humidity and regulate the humidity content. Desiccants are added to maximize the evaporation rate.
Water remediation is not complete until all visible and invisible humidity signs are eliminated. Instruments for tracking help to assess when the drying process is over. The control of the drying out time is important because swelling and tightening walls create the conditions for mold to flourish, if not deliberately done.
Deodorize and Sanitize
Water damage can produce odors in spaces and surfaces in no time. Foggers are used for damaging water damage odors, which emit a subtle nebula to attack odors and to kill them before entering hard surfaces, and inaccessible areas.
The sanitizing process is carried out using many methods of water removal. Every step is taken to ensure your home or business is completely sanitized, disinfected and dried out.
Two common sanitizing techniques are used:
Hot water cleaning and disinfection
CL02 fogging and deodorization
The job of the water extraction staff is not only to remove the water but also to restore the entire domestic or commercial space to a state in which no signs or odors have once rendered the room uninhabitable.
Allow our water damage experts to help you extract water. Abbotts Fire & Flood of San Diego effectively restores your propery to a pre-loss condition. We take the time to answer your needs and questions before creating tailor-made solutions to make your property look new.
Carpet Drying Services
Did you experience flooding or water damage that soaked your carpets? Whether it is from bad weather, a leak of a water heater or an overflowing sink— this is something a non-professional should never take on. Flood water not only destroys your furniture, your personal items and appliances, but also may cause delimitation and damage to your carpets and may allow mold and bacteria to spread.
When you need emergency water extraction, time is extremely important — and you will need the help of professionals who can deal with emergencies effectively. Abbotts Fire & Flood has worked for over 30 years in the field of water damage restoration and we are sure we will restore your home or business as soon as possible.
24/7 San Diego Water Damage Restoration Services.
You can never plan when your house floods, so you need to have a professional company with 24-hour services. At Abbotts Fire & Flood, we have water damage technicians who are always on standby and can come and help instantly, we provide immediate 60 minute response and we know that minutes matter if you need emergency carpet water extraction.
We start the repair of water damage by first removing water from your carpet or hardwood floors. We will sanitize your house and deodorize it when we clean up the contents and furnishings.
Once the water has been properly removed, we must make sure that the walls and ceilings are fully dry. In this phase, we will also check for fungal growth during the flood. During our initial inspection mold, mildew, dust and dirt will be removed from your home because if it is left inside it can be harmful to your health. We can also provide healthy space to store your personal belongings and prevent mold or microorganisms from emerging in addition to clean and dry the surfaces of your house.
Abbotts is held in high regard by the IICRC and we will be working with your adjuster and insurance company in regards to the billing of your home or business restoration. Call Abbotts, a restorative water damage restoration company in San Diego that you can depend on regardless of the time or place.
Foundation Leaks
When your foundation leaks, the source of the water can be difficult to figure out. It is important that the source of the leak is accurately identified so it can be repaired.  It takes just a few days before water continues to ruin your house.  Mold growth is also a concern. Category III water takes less than 24 hours to create mold spores. The earlier you repair your foundation leak and dry, clean and restore the property, the less your risk for dangerous mold growth.
Often you will recognize a leak of water on the walls and pooling water from the ground floor of the building. The soil is saturated during heavy or persistent rains. The waters must go somewhere and can also push into the basement, walls or floors. Blocked gutters or downsides below the foundation are a common cause of water damage to the foundation.
If you detect any moisture or water, you want to take it seriously and consider calling us immediately.  It's important to act fast! Time is necessary to prevent further damage to your home or business.  Within 60 minutes, Abbotts can be on site.
Hot Water Heater Burst
Water heaters will carry over 50 gallons and are capable of refilling there tanks every 8 minutes. A burst or broken water heater left unattended can have major unintended consequences costing tens of thousands of dollars of damage to homes and their structure. Even a small leak in the water heater will cause serious problems on surfaces, floors and walls. Water will quickly destroy your house. Mold spores may take less than 24 hours to form. Unnatural, malodors and mold also causes allergic reactions and respiratory issues in some people.
Prevent additional water heater flood damage by shutting off power to the water heater.
Turn off the water supply that supplies water to the water heater. If the disconnection valve can not quickly be accessed, turn off the main water supply to prevent further damage to the water. Water inside the tank may continue to flood depending on the nature of the hot water tank leak.
Burst Water Heater Insurance
A leak from the temperature & pressure relief valve (T&P valve) may be caused by overheating or excessive pressure inside the tank. In this case, the T&P valve will overflow allowing water to escape from a copper pipe on the of the water heater. If the T&P valve is good, once the pressure is relieved, the valve will stop additional water from leaving the tank. If the T&P valve is failed or is bad, the water will continue to run from the hot water tank which is also known as a hot water tank burst. In either case, turn the water off to the water heater, call Abbotts Fire & Flood Of San Diego immediately for help regarding burst hot water heaters insurance claims.
If your water heater fails, you must either repair or replace the hot water tank so that your property does not continue to flood. The hot water tank leakage is commonly found in temperature & pressure relief valves, water inlets, drain valves and an internal tank. Excessive pressure inside the tank or overheating may cause hot water tanks to leak from the T&P valve. This pressure on the T&P valve keeps it almost continuously open, which causes your water heater to leak.
You may need professional equipment depending on your water heater flood. In 60 minutes or less, Abbotts can be on-site.
Why Choose Abbotts?
24 HOUR EMERGENCY RESPONSE
Call 619-223-1800 for immediate help with water damage
What our Clients Say
"I wanted to take this opportunity to tell you how pleased I am with the work that was completed at my home. You did a fantastic job. I felt like you really cared to educate me on what would happen and when. The workers were quiet and worked very hard. Finding a team like yours isn't easy and I am happy to recommend Abbott's."
"Amazing folks did a fast, through job when our basement was damaged due to flooding, first rate operation. I hope I don't have to use them again (disasters are not my favorite thing in the world) but glad to know I've got the right people to call if something does go disastrously wrong. Thanks guys."
5 Reasons to Work With Us
Our clients' interests always come first

Our assets are our people, capital and reputation

Our goal is to provide superior customer service

We take great pride in the professional quality of our work

We stress creativity and innovation in everything we do