What to Do if Your Dishwasher Floods in San Diego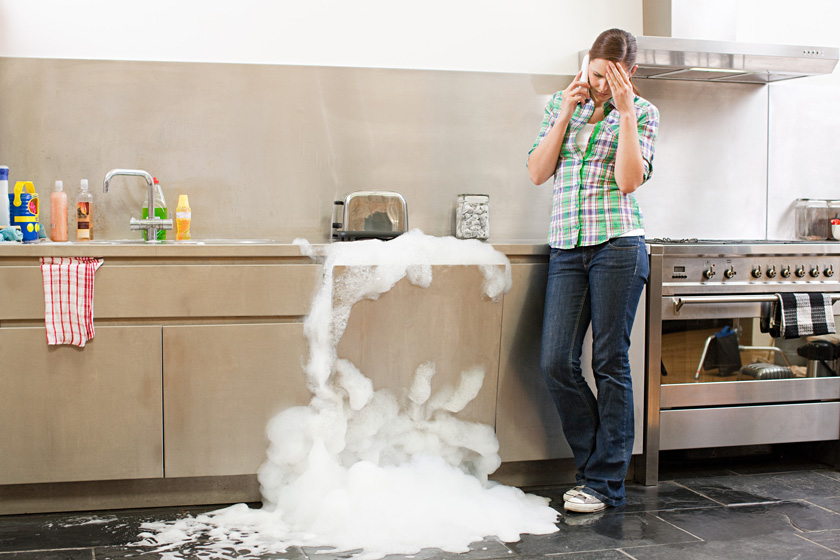 Most household floods and water damage are caused by plumbing or appliance failure. Having a dishwasher flood your kitchen – especially while you are gone – is a nightmare to homeowners that can add up to hundreds or even thousands of dollars in repair costs. It's recommended by safety experts to run the dishwasher in the time frame of after you get home and before you go to bed so you are able to shut off the appliance at the first sign of trouble.
You have to act fast, but you need to stay safe too. Here's how to tackle a dishwasher flood in San Diego, and what steps to take first.
What causes a dishwasher to flood?
A dishwasher flood could be a result of several different factors. One reason, for example, is that typically food drops when you pull the baskets out while you load the dishwasher causing build up along the seal. This debris buildup can cause leaks to occur on the bottom of the unit near the door hinges.
To solve this problem, we recommend cleaning the food with a sponge and a few drops of dishwasher detergent. In addition, pour vinegar into the detergent tray and run a short cycle while the unit is empty.
Other factors include:
Leaky components

Using the wrong detergent

Overfilling the dishwasher

Neglecting routine maintenance
Once you've identified the source of the problem, it can be a lot easier to remedy the issue and get your kitchen back in working order. Unfortunately, signs of water damage can start to occur after just one hour post-flood – so the faster you act, the better!
What damage can be caused by a dishwasher flood?
Unfortunately, water damage can start to happen almost immediately after any type of flood. Mold can start to grow within 24 hours, and water seeping into carpets and floors can quickly cause long-lasting damage. Other damage that can be caused by a dishwasher flood includes:
Damage to the dishwasher itself

Carpet or flooring damage

Foundation damage

Electrical socket damage

Kitchen cabinet damage
How to clean up after a dishwasher flood
An unexpected leak may spring if you do not perform periodic checks of the dishwasher's internal mechanisms. Soapy suds that spread along the kitchen floor leave more than watery puddles to clean up. Developing mold spores are a cause for concern.
Plus, it's very unsafe to step into a wet kitchen floor with a malfunctioning electrical appliance. The combination of electricity and water is extremely dangerous.
Here's what to do once your dishwasher has flooded:
Step 1. Turn off the electricity
First, turn off the electricity to the kitchen. This safety precaution ensures that leaking water and electricity do not mix. Advise your family that the kitchen is off limits until the dishwasher is safe to use once again.
Step 2. Shut off the water
A quick reaction is necessary to prevent additional water damage to the flooring or paneling of surrounding cabinets in your kitchen. Find the waterline that works in conjunction with your dishwasher (most likely under the kitchen sink). Turn the valve clockwise completely to shut off the water to the dishwasher. Once the water source is turned off, take this time to examine the cause of the flooded dishwasher.
Step 3. Clean up excess/flooded water
Soak up any water that leaked onto your hardwood flooring, kitchen tiles or surrounding cabinetry. Hardwood flooring and wooden cabinets absorb water easily, creating a risky environment that encourages mold growth or discoloration and damage to surfaces, including swelling and warping. Swift action can prevent mold spores from contaminating the space as well as reduce other unfavorable conditions.
Step 4. Call a professional
If there is too much water and it looks like the flood is spreading, call a San Diego water restoration company to help with professional water damage cleanup and extraction. Because cabinets may need to be removed, along with damaged flooring and drywall, it's very difficult to guarantee complete water extraction without a professional restoration company.
After the standing water is removed and the area is cleared, the area should also be disinfected and sanitized to prevent mold growth.
Step 5. Document the damage and file an insurance claim
Call your insurance agent, and let him or her know about the extent of water damage in your bathroom. Even minor flooding can create long-term problems, so take pictures before you start cleaning. When you file your claim, this type of documentation makes it easier to complete the process.
If you're struggling to clean up after a dishwasher flood in San Diego, Abbotts Fire and Flood can help. Contact us today for your emergency water damage restoration needs in San Diego County!