What to Do if Your Kitchen Floods in San Diego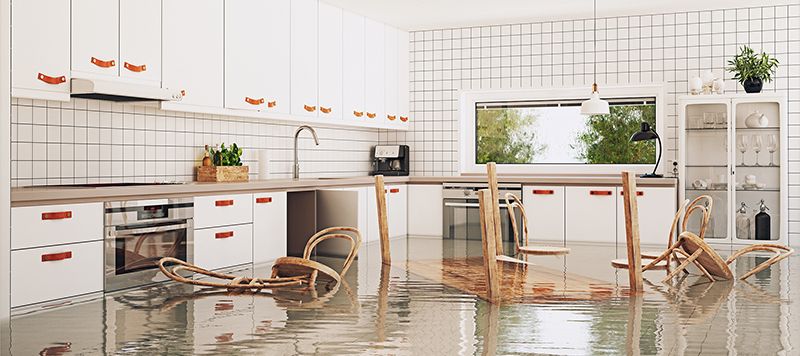 When you walk through the door, you know right away that something is very wrong. Everywhere you look, you see water. Whether it's a broken dishwasher or a kitchen sink flooding the room, you're staring down a huge problem. Knowing what to do next makes a big difference in how well you can recover the heart of your home.
You have to act fast, but you need to stay safe too. Here's how to tackle a flooded kitchen in San Diego, and what steps to take first.
What causes a kitchen to flood?
Because there are so many appliances in a kitchen, there are many different things that can cause a kitchen to flood; including:
Dishwasher overflow
Dishwasher leak
Clogged kitchen sink
Refrigerator icemaker breaks
A burst water line/pipe
Once you've identified the source of the problem, it can be a lot easier to remedy the issue and get your kitchen back in working order. Unfortunately, signs of water damage can start to occur after just one hour post-flood – so the faster you act, the better!
What damage can be caused by a kitchen flood?
Unfortunately, water damage can start to happen almost immediately after a flood. Mold can start to grow within 24 hours, and water seeping into carpets and floors can quickly cause long-lasting damage. Other damage that can be caused by a kitchen flood includes:
Carpet damage
Foundation damage
Electrical socket damage
Kitchen cabinet damage
Floor tile damage
Appliance damage
How to clean up after a kitchen flood
It's important to address kitchen flooding as quickly as you can. Standing water quickly seeps through the floor and down into the subflooring, and as it soaks baseboards, drywall and cabinets, the water creates a humid environment that can breed mold and mildew in just 24 hours.
Carpet damage
Foundation damage
Electrical socket damage
Kitchen cabinet damage
Floor tile damage
Appliance damage
Steps to take to dry out your kitchen floor after a flood
Step 1. Turn off the water
If your kitchen is still flooding, your obvious first step is to stop the flow of water. This is easy if your kitchen is flooding because of a burst pipe. Look under your sink for your water valves. There should be two — one for hot water and one for cold. Turn both valves clockwise until they're tightly closed, being careful not to over-tighten the valves. You don't need any tools for this; your hands will do. Next, turn on your water faucets and run the water until it stops.
Step 2. Turn off the electricity
Once you have stopped the water, check to ensure that there are no electrics near the flood. If any appliances or outlets have become flooded, stay away from the water and turn off the electricity. Shut off all electricity in the room(s) that have flooded or are flooding.
Step 3. Soak up the water or call a restoration company for professional water extraction
First, try to remove as much water as possible. Move appliances and furniture, and open windows in the kitchen to help with air flow and prevent mold growth.
If there is too much water and it looks like the flood is spreading, call a San Diego water restoration company to help with professional water damage cleanup and extraction. Because cabinets may need to be removed, along with damaged flooring and drywall, it's very difficult to guarantee complete water extraction without a professional restoration company.
After the standing water is removed and the area is cleared, the area should also be disinfected and sanitized to prevent mold growth.
Step 4. Document the damage and file an insurance claim
Call your insurance agent, and let him or her know about the extent of water damage in your bathroom. Even minor flooding can create long-term problems, so take pictures before you start cleaning. When you file your claim, this type of documentation makes it easier to complete the process.
Step 5. Tips for preventing kitchen flooding in the future
To avoid kitchen flooding problems in the future, be sure to check your sink disposal is in working order regularly, and ensure your dishwasher is functioning properly at least once a month. If you notice a slow kitchen sink drain or other problems, contact a professional for repair to prevent even costlier and more damaging issues down the line.
If you're struggling to clean up after a kitchen flood in San Diego, Abbotts Fire and Flood can help. Contact us today for your emergency water damage restoration needs in San Diego County!