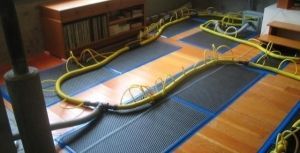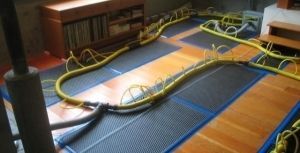 Hardwood Floor Restoration
If your hardwood floors have been subject to water damage or moisture intrusion, call Abbotts fast to save money and minimize your loss and inconvenience.
When your quality hardwood floors are soaked with water, time is everything. The sooner you call us, the more money you'll save. Don't wait even overnight. The longer water has to soak into your hardwood flooring, the harder it is to pull out. The chances of successful recovery plummet even faster if you have engineered hardwood floors. No one can guarantee to restore your floors to a pre-loss condition, but give yourself the best chance. Call Abbotts.
Abbotts Hardwood Floor Restoration Advantage
Many companies claim to be hardwood restoration experts, but they just don't match up to Abbotts. Hardwood floors are extremely difficult to dry properly to avoid warping and other damage. You can't just put an air mover on it. If it's not dried properly, you'll have a mold problem or your floors will sustain other damage (crowning and cupping), requiring replacement.
It's very hard to match quality hardwood, so chances are any replacement flooring will devalue your floor and home. A better option is to properly and thoroughly dry the hardwood using state-of-the-art equipment and techniques, thereby avoiding expensive, time-consuming repairs that disrupt your life or business.
No Sanding, Refinishing or Replacement Needed
We dry hardwood floors in place all the time without having to launch a major construction project, saving our clients money and inconvenience. No sanding, no partial removal, no re-staining or varnishing, no detaching baseboards, cabinets or molding.
We have the expertise and equipment to properly dry any hardwood floor, including:
InjectidryⓇ
Rescue mat system that extracts the moisture out of the hardwood. Water is underneath the flooring, not just on top. Our rescue mats pull all the water out of the hardwood, preventing mold from growing in the subfloor, which often contains parchment paper (food for mold).
TES system injects hot, dry air into a tent over the affected flooring.
Dehumidifiers scrub moisture from the air, aiding in faster drying.
Antique Hardwood Floors to Gymnasiums
Whether you have water damaged hardwood floors in your home or business, Abbotts is your best bet for drying and restoring them. We can even dry and restore gymnasium floors, which are extremely expensive to replace.
We can do any hardwood drying and restoration job, big or small. We can even dry and restore antique hardwood floors. As a matter of fact, safely drying and restoring older hardwood floors is one of our specialties.
Experts Who Care
Abbotts is a Better Business Bureau accredited general contractor. Our hand-picked staff will answer the phone when you call, show up to your home fast and restore your hardwood floors to their original glory. We work with all insurance companies and will be your friend and advocate throughout the restoration process, making sure we answer all your questions and deliver the quality and value you deserve.
Complete Hardwood Restoration Services  
We can quickly and properly repair and restore your hardwood floors.
If your hardwood floors are damaged by flood, fire or other unfortunate events, call Abbotts today for a free consultation and estimate.
Got Water Damage? Do These First:  
Stop water flow.

Drain standing water.

Soak up excess water with mops or towels.

Remove furniture, rugs and other objects from on top of wet flooring.

Call Abbotts any time, 24 hours a day, for an immediate response and free consultation.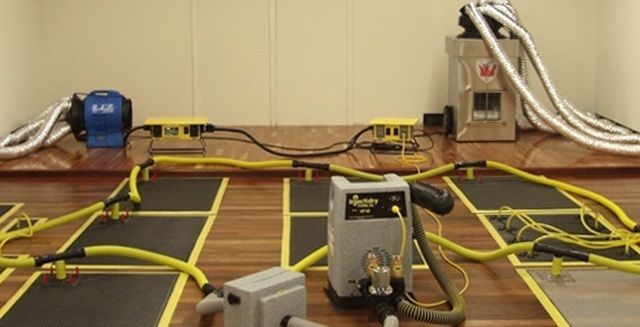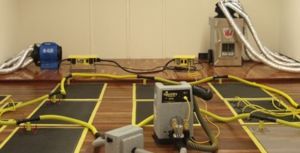 Why Choose Abbotts?
Our clients' interests always come first
Our assets are our people, capital and reputation
Our goal is to provide superior customer service
We take great pride in the professional quality of our work
We stress creativity and innovation in everything we do
"I wanted to take this opportunity to tell you how pleased I am with the work that was completed at my home. You did a fantastic job. I felt like you really cared to educate me on what would happen and when. The workers were quiet and worked very hard. Finding a team like yours isn't easy and I am happy to recommend Abbott's."
"Amazing folks did a fast, through job when our basement was damaged due to flooding, first rate operation. I hope I don't have to use them again (disasters are not my favorite thing in the world) but glad to know I've got the right people to call if something does go disastrously wrong. Thanks guys."
Get Help Now
Get a fast, 24 hr. emergency response. Click the button and get started immediately.
60 minute response time | Insurance approved | Report a claim
Get Help Now