La Mesa Water Damage Restoration & Flood Cleanup
Do you live in Encinitas and need emergency water damage
restoration? Call Abbotts Fire and Flood immediately!
Providing professional flood cleanup services in La Mesa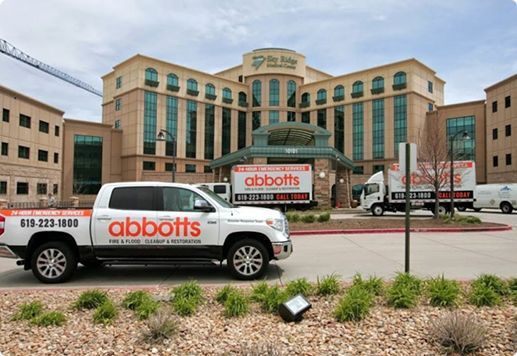 You never plan to have a water disaster, it just happens. When this kind of emergency does happen, acting quickly can be the difference between losing everything and having a chance to cut your water damages by up to 50%.
Luckily, our La Mesa water damage restoration team is available 24/7 to assist in stopping the flood damage.
Restoration services you can trust
Our La Mesa water damage restoration experts have everything they need to tackle your water extraction job. This includes wet dry vacuum equipment, industrial driers, submersible pumps and truck based extraction methods to make sure every drop of water is removed from your building.
The process starts when you call in, as our online operator will assist to make sure you can minimize the damage the water has already done while you await our restoration team's arrival.
Why choose Abbotts for your La Mesa water damage restoration needs?
Simply put, we know how important restoring your home or business is to the livelihood of your daily activities. Infrastructure is everything, especially when it comes to water restoration in La Mesa. You can trust Abbotts with your water damage restoration services.
Your time is important, and that is why Abbotts works effectively to perform each project in a timely manner. Your complete satisfaction for a job well done with our water restoration services is important to us. Each job is handled with care by our highly trained technicians who specialize in flood damage cleanup.
In the event of a flood
Look for the shut off valve closest to your leak, and shut it off. If you can't find that shut off, turn off the main for the house or building.
Be sure to unplug any devices that the water has not reached yet, but potentially could.
Go to your main breaker and turn off the electric power for the affected area.
Pin up furniture skirts and drapes so they don't wick up water.
If you have aluminum foil, place some pieces under furniture legs to help prevent rust spots in the carpet.
Wash your hands after touching anything that was in the damage area. Grey or black water may be present and the contaminants may be on your hands.
Don't walk on the carpet unless you absolutely have to.
Don't use a wet dry shop vac to clear the area yourself. They are not rated for large scale water removal and could short circuit.
Attention to detail is our responsibility and your satisfaction for a job well done is what we aim for. For your water restoration needs, you can count on Abbotts to do a good job the first time around. We know flooding can cause serious issues and that is why our technicians at Abbotts are available 24-7 for your water restoration needs.
Call us today to schedule your water restoration appointment in La Mesa!
With over 25 years of experience, we are proud to be your trusted water damage experts in the San Diego
community of La Mesa.

24/7 Emergency Restoration Service

60-Min Guaranteed Response Time

Certified, licensed, bonded & insured