Del Mar Fire Damage Restoration
Do you live in Del Mar and need emergency fire damage
restoration? Call Abbotts Fire and Flood immediately!
Providing professional fire damage restoration in Del Mar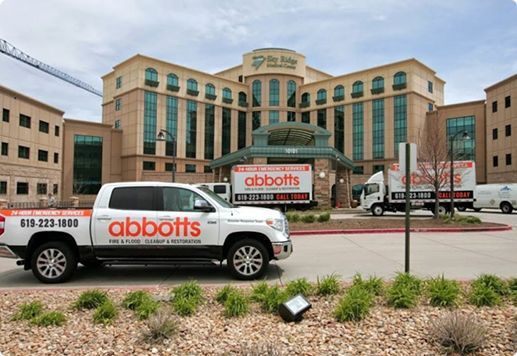 Do you need emergency fire damage restoration in Del Mar? Call Abbotts Fire and Flood at 619.391.9368 immediately!
We have over 20 years of experience and know-how to get your fire damage cleanup done. As a smaller family-owned and operated company, quality and customer service are our #1 goals. We truly care about our Del Mar customers and take pride in our work.
Leaders in the professional fire damage restoration industry
If fire has damaged your home or business, our Del Mar technicians at Abbott's are ready to help. We act fast for all your fire restoration needs, because we know the sooner the repairs are made, the better your chances are to avoid costly repairs as a result of prolonged exposure to fire or smoke with your home or business in Del Mar. We are your one-stop-shop for fire damage restoration.
By working with us, you can be confident that experienced and caring damage technicians are handling every aspect of your fire damage repair project.
Why choose Abbotts for your fire damage restoration
Abbotts Fire & Flood of San Diego offers expert fire restoration services for commercial and residential properties in Del Mar. Whether you are looking to reverse fire damage or remove smoke odor or residue, our team provides guaranteed results and excellent service.
Professional restoration services can effectively restore property with significant smoke damage and clean areas exposed to smoke. Even in the case where there aren't obvious signs of smoke damage, it's important to have the home inspected and properly cleaned.
Our Del Mar Fire Damage Restoration Process
Step 1. Assess the situation
Step 2. Estimate total restoration costs
Step 3. Schedule a service time and day
Step 4. Help you with Insurance
Whether you have a fire or a natural disaster such as a flood that has destroyed your home, you can rely on Abbotts to help you repair your property and return your life to normal.
Call us today to schedule your fire damage restoration appointment in Del Mar.
With over 25 years of experience, we are proud to be your trusted fire damage experts in the Del Mar community.

24/7 Emergency Restoration Service

60-Min Guaranteed Response Time

Certified, licensed, bonded & insured