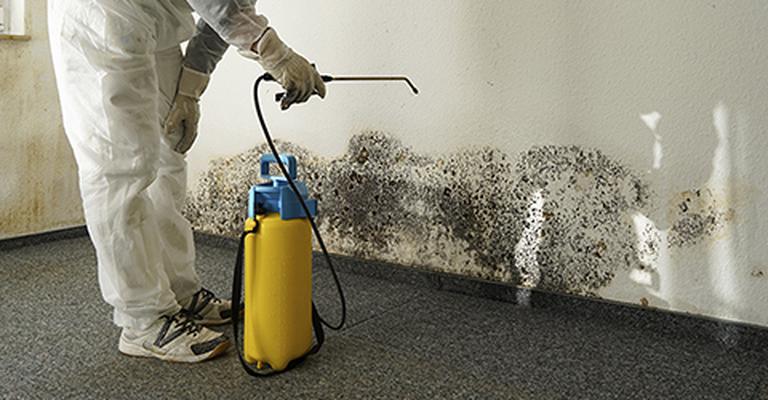 Leading Mold Remediation Specialist In San Diego County
We are San Diego mold remediation experts. We provide each and every customer with a 100% customer satisfaction guarantee. Abbotts specializes in safe and permanent mold removal, delivering the quality mold remediation San Diego deserves.
Mold growth and property damage can occur within 24 to 48 hours if a property is left with high moisture levels. In addition to the mold damage, mold can also cause serious respiratory and health problems due to the mycotoxins they produce. A popular question we are asked is if "bleach" will "kill" mold. Bleach can cause mold spots to fade or change color on the surface but mold is still in the air to be ingested. We eliminate this by filtering the air using machines called HEPA air scrubbers and HEPA vacuums.
Homeowners will also ask if the color of the mold shows the level of harmful effects to health. This is not true specific mold strain can only be identified by taking a sample and cultivating it in a lab. It is then analyzed under a microscope. This is part of our process. Elderly and young children are more susceptible to being harmed by mold than others. There are certain strains that nearly all individuals will be affected by during exposure. Because of this we treat all mold damage seriously.
We will assess the mold damage, coordinate the mold testing and walk you through the steps necessary to remove the mold and restore your property. Our specialized remediation techniques include the following:
Our Mold Remediation Services Include:
Residential & Commercial Mold Remediation & Restoration Services
Meeting or exceeding the EPA, IICRC, and San Diego Department of Health Standards for mold remediation
Coordination of air or surface sampling if needed

Moisture examination

Analysis of moisture source

Containment and negative air cleaning

Removal of damaged areas and proper disposal of debris

Extraction of mold spores

HEPA vacuuming

HEPA air scrubbing

Air duct cleaning

Dehumidification

Drying / air movement for expediting drying

Specialized  drying of cabinets, hardwood floors, carpets, and interiors of drywall

Final Air Clearance Testing
Free estimates
24/7 Service & 60 minute response time
Fully licensed and Insured Professionals
Fungicidal protective coating application to prevent future mold growth
Mold removal using eco-friendly materials for a permanent and safe mold remediation
Complete mold restoration for affected areas
FREE visual inspection upon request
Mold tests including swab and air samples
A final mold spore test will be conducted to verify complete remediation
Water damage not taken care of quickly that causes microbial growth buildup
Pipe leak within a wall causing mold damage on the drywall
Appliance leak like a refrigerator or dishwasher causing mold damage to the hardwood floor or subfloor
Shower pan leak on a second floor causing a slow drip and damage to first floor ceiling drywall
Vacant house with flood damage will cause microbial growth on carpet, drywall and hardwood flooring
Standing water under a house in a crawl space left unattended and causing microbial growth on ceiling / floor joists
Broken water heater causing consistent water damage to drywall and the water heater stand
A mold problem is always a moisture problem. Moisture problems are caused by water damage from floods, broken pipes, failed appliances, as well as by on-going and unnoticed leaks from pipes, roofs or around doors and windows. A high level of humidity causes fungus growth while lower levels tend to increase the release of mold spores as a method of self-preservation. Since leaks are the easiest to spot, this will be one of the first indications that you may have mold in your home. If you have mold in your home you will want to get rid of it before it becomes an extensive problem.
Signs of Mold Contamination
When mold and toxins enter a building, they will damage the structure and causing unsightly stains and odors. Mildew and mold can rot the framing around windows and doors, or creep into porous surfaces of the concrete, wood, insulation or carpet and fabrics – which often require a complete replacement. If any of these symptoms occur in your home or business, you may have a mold problem.
Discovering that you have a mold problem is only the first step.
Once the mold is identified and treated it is important to make sure it is removed completely. Individual removal attempts can be very effective initially but many times when people try to get rid of the mold themselves the mold keeps coming back. Mold can be very elusive, growing in cracks and even within the walls of your home. To make sure that all mold is removed properly we advise a mold removal specialist to come to your home and thoroughly inspect and clean your building.
Mold Inspection
The purpose of a mold inspection is to locate potential mold infestations, determine the cause and provide information for an effective remediation (removal) plan. A mold inspection is a visual inspection of a property for mold and conditions that may cause mold. The inspection also includes moisture readings of construction materials, including exterior walls, interior walls, floors, cabinets, shower enclosures and concrete slabs. Abbotts uses state-of-the-art technology to detect excessive moisture in construction materials, the primary cause of indoor mold problems.
Mold Removal and Mold Remediation
Mold remediation is a process that involves inspection and testing to identify the presence of potentially dangerous amounts of mold contaminants. Contaminated areas are isolated from other areas of the property so that there is no cross-contamination. Abbotts uses specialized equipment, tools and licensed personnel to decontaminate affected areas and prevent future growth.  We will not only completely and thoroughly remove the molds and toxins; we will also repair the damage they caused.
Clearance Testing
We perform a clearance test after the mold remediation work has been completed in order to ensure that the remediation was successful and no longer a problem. A comprehensive report is produced after every inspection.  All of our mold removal and cleaning meet state and local building codes. We have a mold removal solution to fit your needs and budget.
Calling a mold restoration specialist may not be the only step you need to take. If the source of the moisture is not appropriately taken care of then the mold will keep coming back time and time again. Some ways of fixing these problems can include a water damage specialist analyzing the pipes of your home, keeping fans circulating in the room, or the use of a dehumidifier. By taking care of the source of the problem and teaming up with a mold removal specialist you will make sure that hazardous mold will be completely removed from your home or building.
Abbotts can solve any mold and mildew problem you have so don't hesitate and call us today.
Get Help Now
Get a fast, 24 hr. emergency response. Click the button and get started immediately.
60 minute response time | Insurance approved | Report a claim
Get Help Now