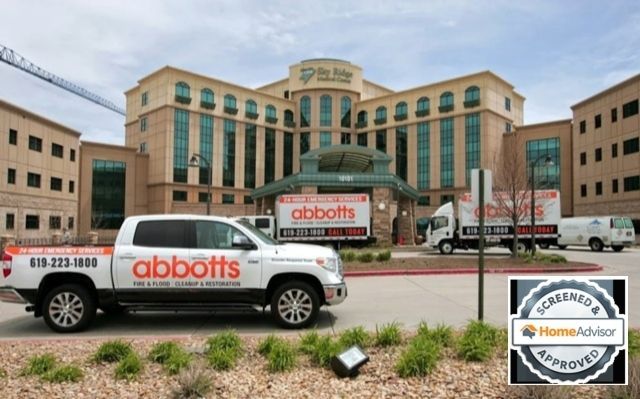 If your home or business has recently fell victim to fire damage due to the Woolsey fire and you are looking for a restoration company to handle the smoke cleanup and odor removal, look no further. Abbotts Fire And Flood has over 25 years of experience in the damage restoration industry and we will assist with the practical matters of mitigation and fire damage repair as well as coordinating with your insurance adjusters to get your home or business back to normal as quickly and painlessly as possible.
Since starting on Nov. 8, 2018 in Ventura County and quickly spreading into more specific areas of Los Angeles County such as Malibu, Woodland Hills, Agoura Hills, Sherman Oaks and Santa Monica, the fire has damaged more 153,000 acres and has destroyed/damaged more than 18,000 structures. There are still road closures from Mulholland Highway East to Kanan Dume Road and many residents remain evacuated.
Fortunately, the fire was 100% contained by November 21st, but the damage caused by the fire has left many residents distraught and frantic. At Abbotts, we understand how horrifying fire damage can be and the negative impact on your life can linger long after the flames are extinguished. We deliver quality fire damage  restoration and smoke cleanup services in the Malibu area with our outstanding state of the art equipment and techniques. By working with us, you can you can be confident that experienced and caring professionals are handling every phase of your fire damage repair project.
Our fire restoration experts know how to work with insurance adjusters in the Los Angeles county to help them quickly and accurately assess and document your damage. In turn, this helps us get started on your smoke cleanup and repairs quickly. Once the property is released, the difficult and emotional process of determining what possessions can be saved and restored and what can't. Abbotts will work with you and your insurance company through this difficult process. We will then remove the items that are to be cleaned and restored in our dedicated facility, then store them until they can be returned. Once the salvageable possessions have been identified, removed and the cleanup is finished, the reconstruction process really begins. Abbotts will be working closely with you and your insurance adjuster to determine the extent of the damage and how most effectively and efficiently get your property and you back to normal.
We know your goal is to get back to normal as quickly as possible and we'll make that happen. Your happiness is more important than anything else in our business and we will work swiftly to ensure your home is restored to its pre-fire condition.
.
Why Choose Abbotts?
24 HOUR EMERGENCY RESPONSE
Call 619-223-1800 for immediate help with water damage
What our Clients Say
"I wanted to take this opportunity to tell you how pleased I am with the work that was completed at my home. You did a fantastic job. I felt like you really cared to educate me on what would happen and when. The workers were quiet and worked very hard. Finding a team like yours isn't easy and I am happy to recommend Abbott's."
"Amazing folks did a fast, through job when our basement was damaged due to flooding, first rate operation. I hope I don't have to use them again (disasters are not my favorite thing in the world) but glad to know I've got the right people to call if something does go disastrously wrong. Thanks guys."
5 Reasons to Work With Us
Our clients' interests always come first

Our assets are our people, capital and reputation

Our goal is to provide superior customer service

We take great pride in the professional quality of our work

We stress creativity and innovation in everything we do