Linda Vista Flood & Water Damage Restoration
Do you live in Linda Vista and need emergency water damage
restoration? Call Abbotts Fire and Flood immediately!
Providing professional flood cleanup services in Linda Vista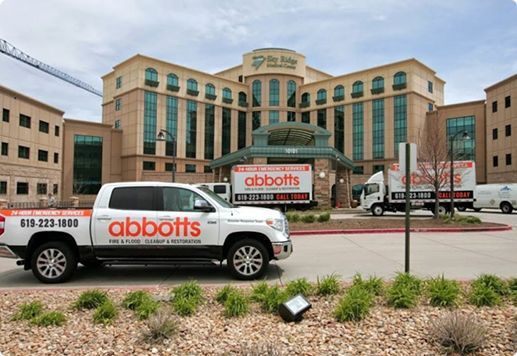 No one can truly be prepared to handle flooding when it occurs, and many do not know the long-term costs of waiting to fix issues pertaining to water damage. At Abbotts, we know water damage can be costly, and that is why we work fast to provide you with quality water restoration services.
We act quickly to reduce the costs of water damage with our team of expert water damage restoration technicians who are available to you 24 hours a day, 7 days a week.
Efficient water damage restoration you can trust
We know how important restoring your residential or commercial property is and that is why the community of Linda Vista trust Abbotts with their water restoration needs for water damage cleanup and extraction. We are a family owned business and work with the community face to face to understand each customer's unique needs for flood and water damage clean up.
We thoroughly inspect all areas affected by water damage, perform the water extraction, dry out all affected areas, and restore the infrastructure back to a quality working manner. At Abbotts, we are known for our high-quality water damage restoration services and repairs.
Why choose Abbotts for your Linda Vista restoration needs
Your time is important, and that is why Abbotts works effectively to perform each project in a timely manner. Your complete satisfaction for a job well done with our water restoration services is important to us. Each job is handled with care by our highly trained Linda Vista technicians who specialize in flood damage cleanup.
Precautionary steps are taken during the water restoration servicing to ensure all affected areas are dry. Infrastructure is truly everything, especially when it comes to water restoration in Linda Vista.
Our Linda Vista Water Damage Restoration Process
Our water restoration process is simple. When you call us, we act immediately to be on site, assess the situation, perform our water extraction, and dry out all areas affected by water damage.
When your water damage-affected areas are thoroughly dry, we begin restoring your home or business back to new, which includes our precautionary mold procedures that are included in each of our water restoration services. Abbotts technicians also take steps to perform precautionary mold prevention as an added benefit from our water restoration services.
For your restoration needs, you can count on Abbotts to do an excellent job the first time. We know flooding can cause issues, and that is why our technicians at Abbotts are available 24-7 for your water restoration needs.
Call us today to schedule your water restoration appointment in Linda Vista!
With over 25 years of experience, we are proud to be your trusted water damage experts in the community.

24/7 Emergency Restoration Service

60-Min Guaranteed Response Time

Certified, licensed, bonded & insured