Encinitas Water & Fire Damage Restoration Services – Zip Codes 92024, 92007, 92091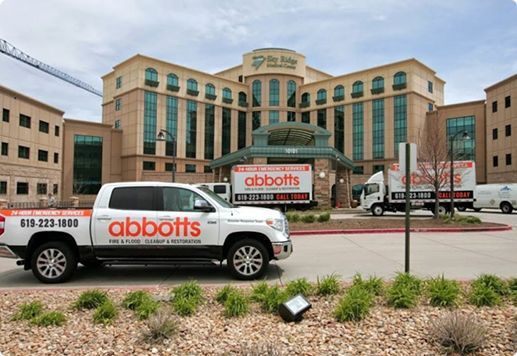 24/7 Emergency Availability
Are you experiencing water damage from a flood or in need of emergency fire damage restoration in Encinitas? Call Abbotts Fire and Flood at 619.223.1800 immediately!
Choosing Abbotts for your Encinitas Water Damage Needs
Removing flood water from your water damaged property can be a daunting, dirty and dangerous task. Abbotts Fire and Flood of San Diego can shoulder the water damage restoration and cleanup burden so you can focus on getting your life back to normal – plus all of our services are covered by insurance. If you have flooding in your home or business in Encinitas, our technicians at Abbotts are ready to help.
Fire Damage Restoration in Encinitas
Abbotts Fire & Flood of San Diego offers expert fire restoration services for commercial and residential properties in Encinitas. Whether you are looking to reverse fire damage or remove smoke odor or residue, our team provides guaranteed results and excellent service.
Professional restoration services can effectively restore property with significant smoke damage and clean areas exposed to smoke. Even in the case where there aren't obvious signs of smoke damage, it's important to have the home inspected and properly cleaned.
Our Encinitas Water & Fire Damage Restoration Process
Assess the situation
Estimate total restoration costs
Schedule a service time and day
Help you with Insurance
Whether you have a pipe that has broken, a sewage backup, a fire, or a natural disaster such as a flood that has destroyed your home, you can rely on Abbotts to help you repair your Encinitas property and return your life to normal.
We understand the need for an immediate response when a disaster occurs, and that's why in most instances, our cleanup crew can arrive at your home or business within just 60 minutes.
About the Community of Encinitas
Encinitas is a small beach community in the North County area of San Diego. Downtown Encinitas, which lies primarily south of Encinitas Boulevard along the Coastal Highway (Route 101) near the beaches. There are numerous shops, clothing boutiques, a variety of restaurants, art galleries, bars, breweries, and more.
The area is known for its beaches, including Moonlight Beach, Swami's, and Encinitas State Beach, all of which are popular with surfers and swimmers. The main attractions in Encinitas include the San Diego Botanic Garden, The Self-Realization Fellowship Encinitas Temple, the weekly Encinitas Farmers Market, and the Encinitas Historical Society.
Contact Abbotts for your water & fire damage restoration needs in Encinitas!

24/7 Emergency Restoration Service

60-Min Guaranteed Response Time

Certified, licensed, bonded & insured