Calabasas Fire Damage Restoration
Do you live in Calabasas and need emergency fire damage
restoration? Call Abbotts Fire and Flood immediately!
Providing professional fire damage restoration in Calabasas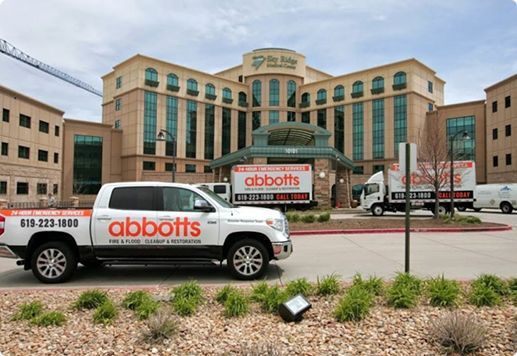 If your Calabasas home or business has recently fallen victim to smoke and fire damage and you are looking for a restoration company to assist with the damage and cleanup process, look no further.
Abbotts Fire And Flood has over 25 years of experience in the fire damage restoration industry and we will assist with the practical matters of mitigation and fire damage repair as well as coordinating with your insurance adjuster(s) to get your home or business back to normal as quickly and painlessly as possible.
Fire damage restoration you can truly trust
At Abbotts, we understand how horrifying fire damage can be and the negative impact on your life can linger long after the flames are extinguished. We deliver quality fire damage restoration and smoke cleanup services in Calabasas and the surrounding area with our outstanding state of the art equipment and techniques.
By working with us, you can be confident that experienced and caring damage technicians are handling every aspect of your fire damage repair project.
Why choose Abbotts for your fire damage restoration
Our fire damage restoration experts know how to work with insurance adjusters in the Los Angeles county to help them quickly and accurately assess and document your damage. In turn, this helps us get started on your smoke cleanup and fire repairs quickly. Once the property is released, the difficult and emotional process of determining what possessions can be saved and restored and what can't.
Abbotts will work with you and your insurance company through this difficult process. We will then remove the items that are to be cleaned and restored in our dedicated facility, then store them until they can be returned. Once the salvageable possessions have been identified, removed and the cleanup is finished, the reconstruction process really begins.
Our Calabasas Fire Damage Restoration Process
Step 1. Assess the situation
Step 2. Estimate total restoration costs
Step 3. Schedule a service time and day
Step 4. Help you with Insurance
We know your goal is to get back to normal as quickly as possible and we'll make that happen. Your happiness is more important than anything else in our business and we will work swiftly to ensure your home is restored to its pre-fire condition.
Call us today to schedule your fire damage restoration appointment in Calabasas.
With over 25 years of experience, we are proud to be your trusted fire damage experts in the Calabasas community.

24/7 Emergency Restoration Service

60-Min Guaranteed Response Time

Certified, licensed, bonded & insured